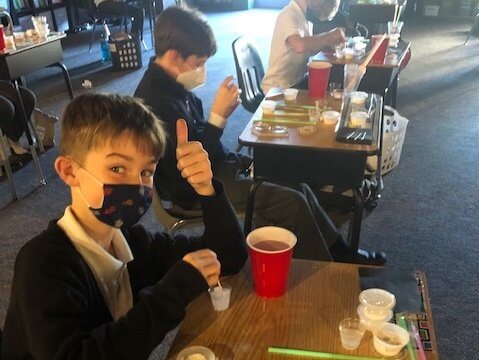 Dear Parents:
We look forward to welcoming students back to school on Monday, February 8th.
On Monday, February 8th, in person learning will resume for GBMS/DEPS & DASS. Childcare and before and afterschool daycare will be operating.
On our first day back, each teacher will remind their students of the importance of wearing a mask, hand hygiene and social distancing.
Please continue to follow public health guidance in the community, stay at home, wear a mask, wash your hands and avoid social gathering outside of your household.
Daily Screening for COVID-19
All staff, students, visitors must complete our COVID health screening tool everyday before coming to school.  STAFF are NOT permitted to allow students into the building unless a COVID screening form has been completed.
If your child displays even 1 symptom, they are not permitted to attend school.
Students will continue entering and exiting the door entrances that we put into place in the fall.
Chromebooks
All students who borrowed chrome books during the remote learning period are required to bring them back to school on Monday, February 8th.
Masks
Students in grades 1-3 are required to wear a mask at school.  All students in grades 1 -12 must wear a mask indoors, including hallways, during classes and during outside recess.  GBMS students are strongly encouraged to wear a mask.  Please ensure that your child/children's mask fits properly, and it is clean.
Please be careful when dropping off and picking up students.  Avoid congregating in groups, please wear a mask and do not linger.
Attention
Please do not park vehicles by the fence near the playground, as this could become a serious Health and Safety issue.  We have 2 pylons outside of the playground to keep all vehicles away from this area.  However, should the pylons be moved, cars are not to park near the playground, as our Toddler class plays in the area and safety is our first priority.
Family Day
Family Day is Monday, February 15th.  The school will be closed.  Enjoy this special time with your family.
March Break
The school is closed March 15th to March 26th inclusive.  We resume classes on Monday, March 29th.
March Break Camp
We will distribute March Break Camp registration forms shortly.  Please return your registration as soon as possible to allow us to prepare for our camps.  Please note that this is not a 'drop in' camp.  Thank you.   
Summer Camp
Summer Camp Brochures will be distributed after March Break.  There will be a Toddler, Casa 1, and an Elementary camp.  If you have any requests /suggestions regarding themes or activities, please come and see me.
Report Cards
Report Cards for GBMS/DEPS will be issued Friday, February 26th.
Virtual Parent/Teacher Interviews
Parent/Teacher Interviews will be Monday, March 1st and Tuesday, March 2nd.  Your child's teacher will reach out to you with their schedule. Thank you.
Re-Registration for 2020-2021
Re-registration letters will be sent home to parents next week.  The deadline for returning your completed forms is March 8th.  Please endeavor to meet this deadline.  If you are not returning, it is equally as important for us to know, to allow us to refer to our waiting lists.  Thank you to those parents that have already attended to this matter.  As always, our current families are our priority, but it is imperative that we know what your intentions are in order for us to plan for the 2021-2022 school year.  Just a reminder, should you recommend our school to friends and family and it results in registration, we will deduct $100 tuition from the month of your choice for 2021-2022.  If you have any questions/concerns, please do not hesitate to contact us.   Thank you.
Tax Receipts
The 2020 Tax Receipts were distributed via email on January 29th.
Pizza/Chicken Bites Day
There are several parents that have signed up and paid for pizza/chicken bites for January.  For those parents, we will transfer your payment over for pizza/chicken bites for February.  This will start on Tuesday, February 9th.  We will not be accepting any new orders for February to avoid confusion.  We will be sending a new form home for March orders.
Outdoor Recess
Please remember to provide your children with appropriate clothing for outdoor activity.  ALL students require hats, mittens, snow pants and boots.  That includes our students in Grades 4-8.  Thank you.
Pink Shirt Day – is on Wednesday, February 24th and students are allowed to have a dress down day.  Each class will learn about pink shirt day.
Black History Month – This month we will be celebrating Black History Month.  Casa 2 to grade 12 classes will learn and discuss the importance of this month.
We would like to express our gratitude for your continuous support and positive feedback with remote learning.  I recognize that the past few weeks have been challenging.  I want to extend my sincere appreciation to you for your patience and support during this unprecedented time and I appreciate our teachers for their unwavering commitment.
I would like to express my appreciation to all our teachers.  The Toddler and Casa 1 being childcare, remained open and my staff continued to offer a wonderful, safe program.
I would like to recognize Mrs. Bingley (Casa 2) and Mrs. Osborne (Casa 3) for delivering their Montessori program virtually for the first time.  Their students are on track and we look forward to seeing their smiling faces on Monday, February 8th.              
I once again extend a huge thank you to all of our DEPS and DASS teachers.  They have never worked harder, and they submitted completed strands weekly.  Some classes even received virtual workshops.
We will continue to enhance our cleaning of high touch surfaces, washrooms and disinfection of desks, workspaces and materials.
Until next time…
Suzanna Mason
Principal