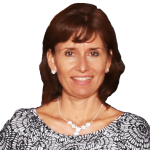 Mrs. Mason
"A good education is essential for success in life. To give your child the best chance at success, you need to consider enrolling them in a private school. Choosing a school for your child can be a daunting task, but we are here to make that process easier. We offer a full range of classes, serving families of Toddlers 18 months to age 5 G.B.M.S, Grade 1 to Grade 8 D.E.P.S, & Grade 9 to 12 Durham Academy. We encourage parents to take a look at our website to see if what we offer is right for them."
Who We Are
Welcome to Great Beginnings Montessori School, Durham Elementary Private School and Durham Academy Secondary School. We believe in partnership between the school and the family and we are committed to help each student meet their individual potential. All 3 schools offer a warm, supportive inclusive environment. Our qualified teachers deliver a high quality, enhanced curriculum that challenges each student to meet their full potential.
G.B.M.S & D.E.P.S have been in business for over 42 years. We are 2 schools under one roof. Students are 18 months to grade 4. This is located at 505 Adelaide Ave East Oshawa.
D.E.P.S & D.A.S.S are 2 schools under one roof at 900 King street East Oshawa which is 5 minutes away. D.E.P.S students at this location are in grade 5 to grade 12. Both locations are located in Oshawa in close proximity to the 401 and GO Train.
G.B.M.S follows the Montessori curriculum/ philosophy to our students 18 months to age 5.
D.E.P.S follows the Ontario Curriculum at an enrichment level from grades 1 to 8. Students enjoy art and music programs and sports intramurals weekly during lunch hour as an extra program enhancement. Students may also choose from a variety of after-school clubs and sports.
G.B.M.S & D.E.P.S offers an excellent French program taught by a certified French teacher. We begin French in our Casa 1 age 3 class. All classes receive French 3 times a week. Students age 3 to grade 3 learn French though songs, drama, music, dance and lessons. Grades 4 to Grade 8 follow the Ontario Curriculum French expectations through lessons, workbooks, songs, drama, music and dance.
D.A.S.S follows the Ontario Curriculum at an enrichment level for grades 9 to 12 and all courses are taught at the academic level leading 100% of our graduates to acceptance at the university of their choice. We have students attending full time and part time. We believe in learning beyond the classroom and we program monthly workshops and guest speakers. Our students compete in mathematical competitions offered by universities. We offer co-curricular programs from yearbook clubs, art clubs, math clubs to sports like basketball, soccer, badminton, volleyball, and floor hockey. Our teachers offer after school support and homework help daily to provide time for students to seek extra help if needed. Each student is given strong support and guidance from our guidance counselor on course selection and guidance on university applications.
We offer solid academic programs, and we enhance the learning by offering workshops and enhancements. The Principal offers tours of our schools daily. Prospective students are invited to spend the day with us where they can fully experience what we have to offer.